Hubei Jewelry Engineering and Technology Center Jewelries of "The legends of Mountains and Seas" series gets successfully launched, by school enterprise joint R&D at the time of COVID 19
Students-Staffs cohesion during special antivirus measures
As the COVID 19 swept through Wuhan, the year 2020 will be a memorable year. All schools in Wuhan was suspended, but students of China University of Geosciences (GIC continued their research during this period. During the epidemic period, Hubei Jewelry Engineering and Technology Center, together with the jewelry brand Mashairi, jointly carried out the design of the series "The legends of Mountains and Seas" jewelry products. After four months, "Qinggeng", a series of jewelry products were designed by the designers of Hubei Jewelry Engineering Technology Center, produced by 3D printing technology, and got online success fully.
Suspended class but ongoing researches; school enterprise cooperation on R&D in the hope for an anti-corona virus campaign, carrying out the heart-warming design.
In the "The legends of Mountains and Seas ", it is said that there were birds similar to magpies, having white beaks, white eyes and white tails named Qinggeng. By feeding them, people could be protected from diseases.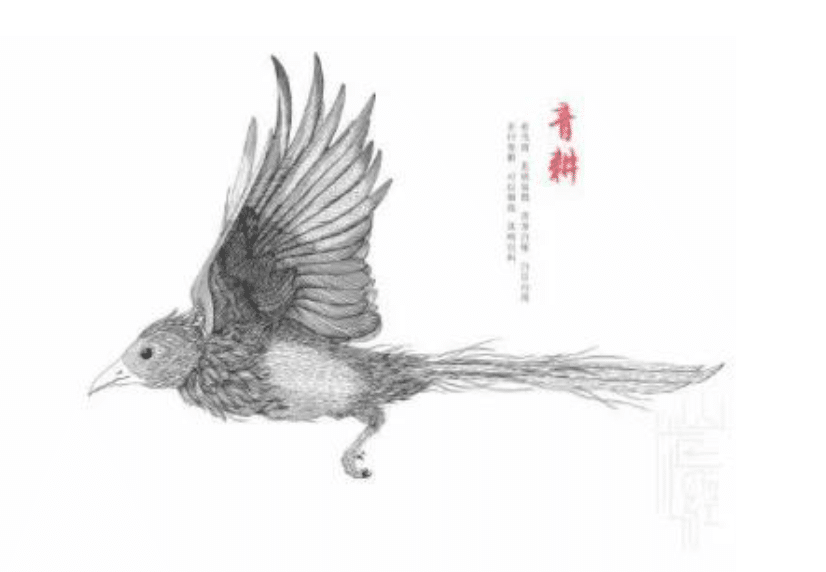 Qinggeng is the lucky bird. It is said that where there is Qinggeng, there will be no disease within a ten mile radius. Qinggeng represents the auspicious meaning of preventing the disease, hence, the designers apply it to their works. During the critical moment of fighting the corona virus , these heart warming designs are wishing for the best in the campaign.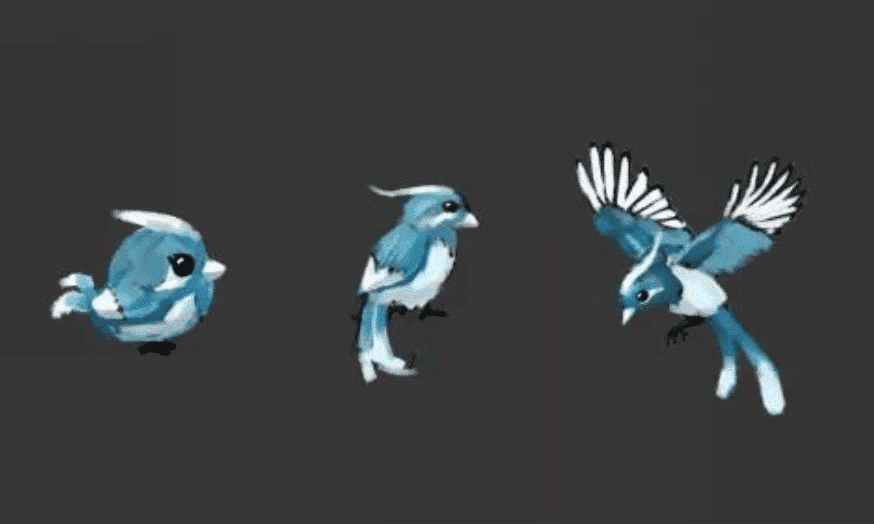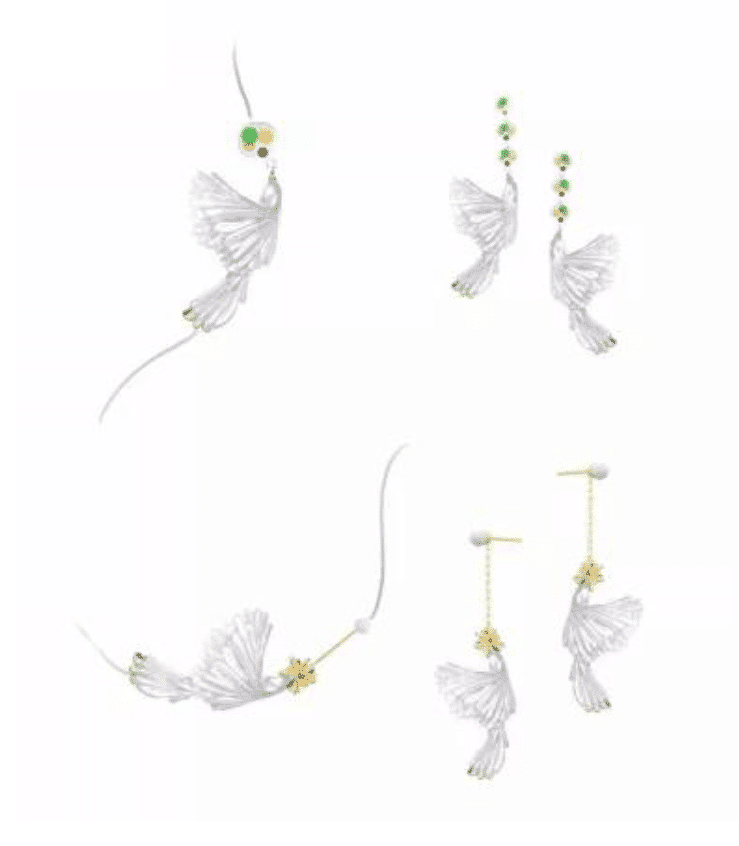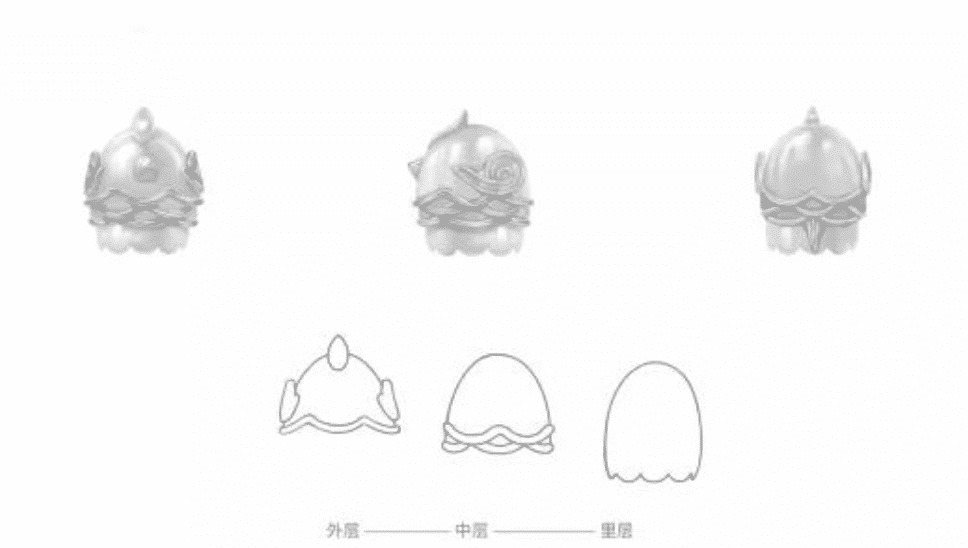 Outer central-inner layer
Chief designers manuscript of Qinggeng
According to the modeling description of Qinggeng in "The legends of Mountains and Seas", the center designers have designed a number of images and jewelry works. By using 3D printing technology, the interlocked feather layers of the jewelry are flexible to move. Then how does 3D printing bring the special flexible structure design of jewelry into reality?
LMF is also known as laser selective melting technology, under the principle of using laser in the selected area to melt and solidify the metal powder, which is then built up layer by layer. The leading team has made multiple achievements in the research of LMF laser metal printing, which can realize the rapid manufacturing and personal customization of silver, 18K gold, platinum and other materials.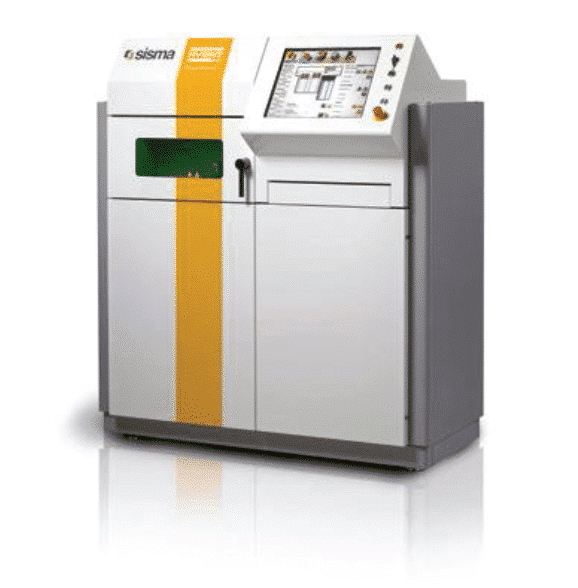 SISMA MYSINT 100 LMF (LASER METAL FUSION) 3D printing machine used by the center team.
Can you imagine to use metal powder as ink, laser as a pen, drawing the images that you want and creating the stunning jewelries by connecting the material layer by layer? This magic is now realized in the precious metal 3D printing technology and jewelry-design innovation project developed by Professor Hao Liang's team at the Jewelry Advanced Manufacturing Research Center of GIC.
During the live steaming activity held by the Science and Technology Department of Hubei Province on July 11, 2020, the special session of GIC (Wuhan), a cloud promotion of 2020 college Achievements of Kehui Action, was broadcasted simultaneously on Yangtze Cloud, Taobao and other online platforms, and successfully attracted 825,000 audiences 9 scientific and technological achievements were claimed by 174 enterprises and technology agents in total, and the intended transaction amount reached 217 million yuan. Finally, the precious metal 3D printing and jewelry design innovation project proposed by the center ranked first among all the projects with 36 bidders.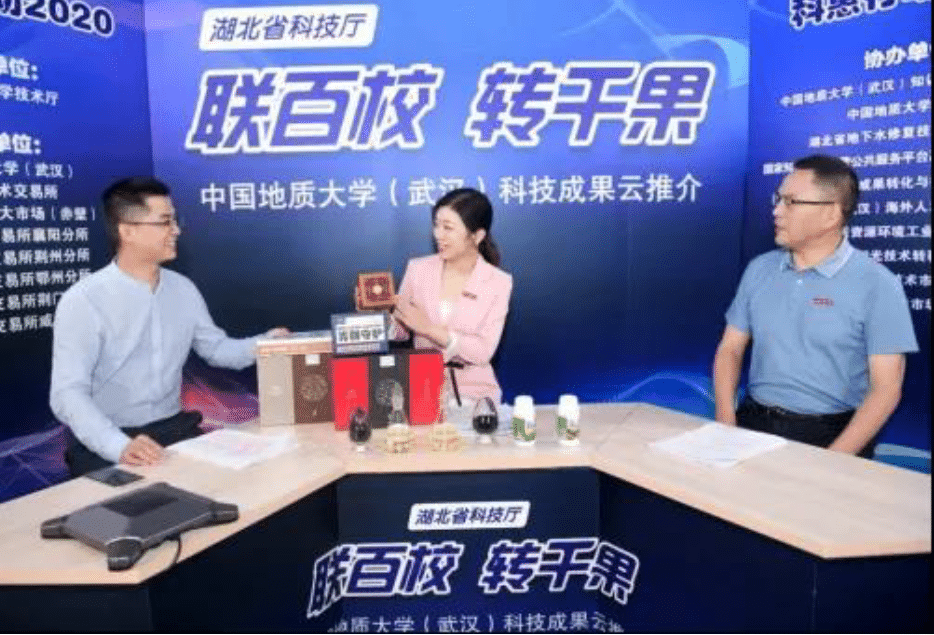 The live event
SISMA MYSINT 100, the metal laser 3D printing equipment used in this project, makes high automation and high precision come true. Simply by printing and post processing the design can quickly be conver t ed into the end product, which greatly reduces the cycle time of product development and production.
Besides, this technology can produce metal parts of complex shapes that are difficult to be created through traditional techniques; and it can produce precise jewelry flexible structure, which broaden the scope of creativity for designers, and also makes the inlaid gems more vivid and shining in addition to a better fitting.
As it provides users with excellent experience of innovative design and rapid material manufacturing of jewelry, than ks to its timeliness and rapidity, this technology promotes large scale personalized jewelry, generates a new growth point for the jewelry industry, and also boosts the development of the emerging market of smart jewelry.
The center has a rich experience of in depth research as they have spent many years in 3D scanning and digital design, and have maximized creativity by 3D printing. The team has proposed the digital sorting method of pearls to effectively overcome the demerits of traditional manual scree ning, and innovatively combines the 3D digital technology with the personalized design of random amber/special shaped pearls according to the current design situation of random amber/special shaped pearls. Now the center has designed and produced a series of personalized jewelries, and held exhibitions at home and abroad.
Special shaped pearl design: 3D scanning +3D printing

3D scanning process display

Special shaped pearl 3D scanning 3D modeling 3D printing process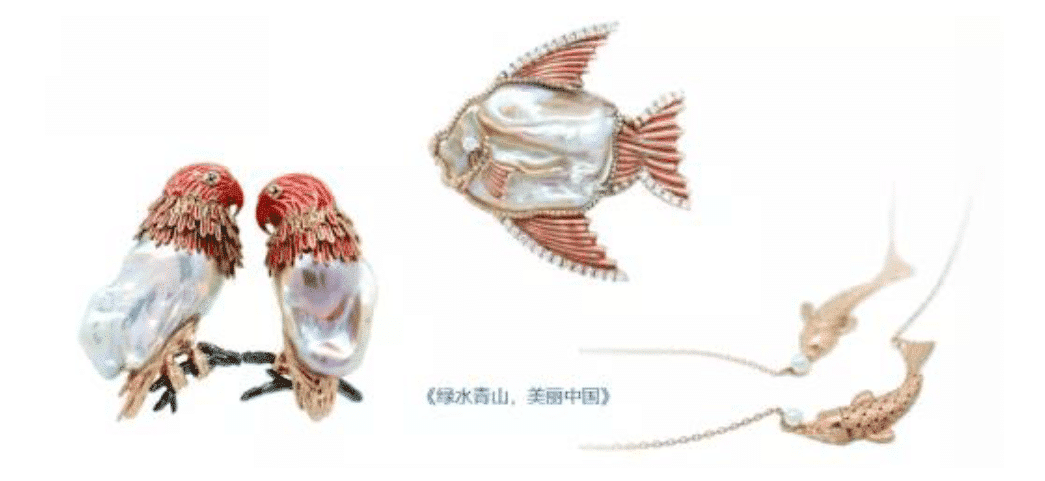 Designs of special-shaped pearl
3D printed rotating structure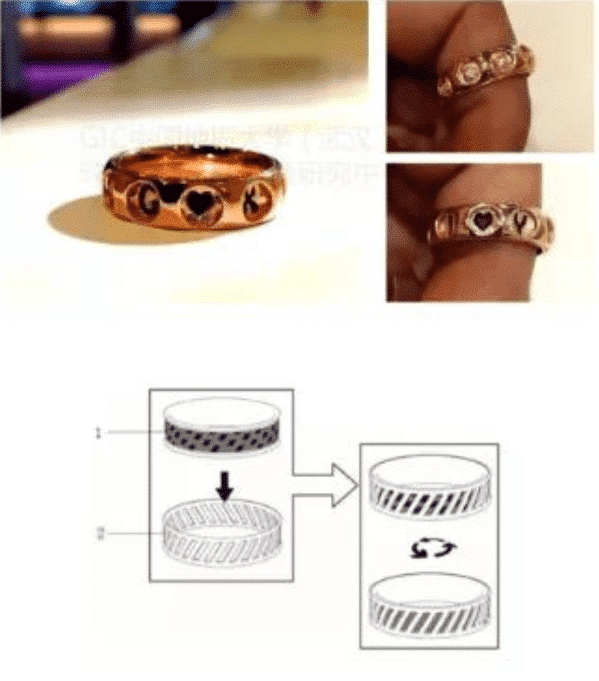 Works of central designer
3D printed flexible structure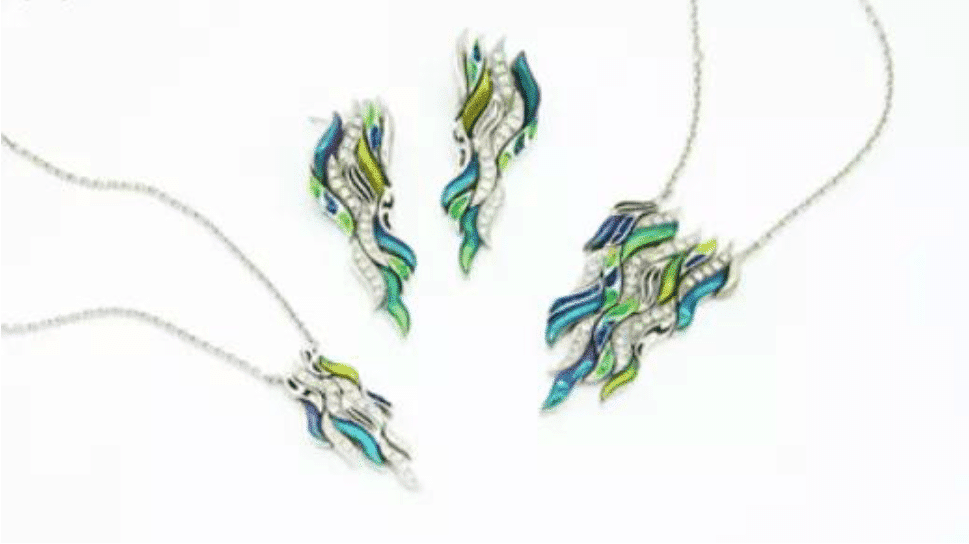 Works of center designer Hills · Streams
3D printing is bound to become a key step in the future development of jewelry design and advanced manufacturing. After four months, Wuhan has successfully conquered the epidemic, and the joint product design and development project between the center and Mashairi has been successfully completed.
Designers from Hubei Jewelry Engineering and Technology Center said that the blue bird Qing geng, is a representation of auspiciousness and health in "The legends of Mountains and Seas". Where there is Qinggeng, there will be no disease. It is quite like the admirable medical staff who voluntarily devoted themselves in combating the epidemic.
Qinggeng looks ordinary like a magpie, lives on "bad things that endanger people's health. It does not like other rare and appealing beasts appearing in "The legends of Mountains and Seas", but is the divine bird that impressed the most during this staying at home. Based on its character, the jewelry is a cute Qinggeng with bright eyes and a round belly.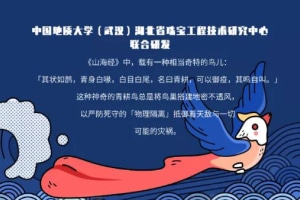 Display of Qinggeng
According to "The Legends of Mountains and Seas", there was a divine bird looking like a magpie, having white beaks, white eyes and white tails, named Qinggeng. Where there was Qinggeng, there was no disease. The bird could build a firm nest that resists all dangers and enemies.