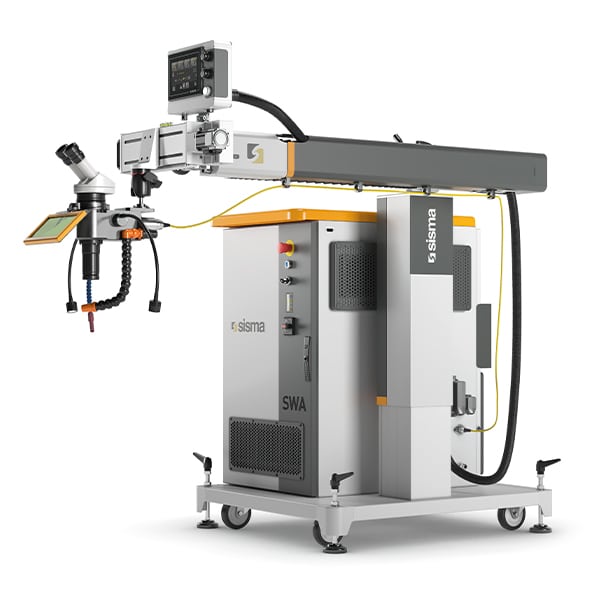 SWA 300F/450F, laser welding and mold maintenance system with fiber source.
SWA has been specially designed to perform modifications and repairs to molds damaged by wear or use.
The use of lasers, with the addition of materials, has revolutionized the traditional welding techniques of molds, allowing repairs without the need of preheating. This avoids the common collateral damage induced by traditional welding, such as geometric distortions, edge burns and decarburization.
Thanks to the properties of the laser beam, complex areas such as narrow and deep grooves, or internal and external edges, can be welded. The metallurgical quality of the weld meets the highest standards on all steels, copper alloys, and aluminum. The hardness of the welding layers can reach very high values ​​without the need for subsequent heat treatments. Its simple way of operating and perfect visual inspection of the filler material, using a stereomicroscope, make this technology accessible to everyone, without having to rely on highly qualified technicians.
SWA is powered by a new generation laser source that offers greater energy efficiency and allows for high productivity.
The new SWA introduces more process stability and a high-quality laser beam. These features increase the production rate, while consistently guaranteeing flawless process execution.
The new SWA does not have any consumable parts and is maintenance-free. The engineering team has pushed the boundaries of energy efficiency, making this the most efficient SWA ever made.
Advanced software functions
The processing parameters are managed through software that allows any operator to carry out advanced welding operations practically and intuitively. These software functions include welding along circular paths, on inclined planes, filling, and the overlap function for executing extremely regular weld seams.